We kindly inform you that in the eFitness system there will be an option to give permissions with the option of adding activities in bulk in reports.
Previously, if the user could enter a report, he could also perform other activities from the level of this report – send e-mails, sms, add bonuses and CRM activities. Now it can be set so that the user can only check the report data. However, in order to send e-mails from the report level, he will have to have additional permission.
In the "Club settings"> "Permissions"> "Edit / New permissions" tab, new permissions will be added in the "Reports" section. A group of new permissions called "Bulk activities" will be located above the categories of individual reports and will be divided into permissions for: sending sms, sending e-mails, adding a tag or assigning bonus points. When not enabled permission – the given user will not be able to perform the action assigned to this permission from the report.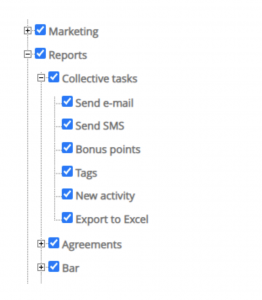 In case of any question, we invite you to contact our Helpdesk team by creating a ticket in the eFitness system.