The reception dashboard can help the club's staff find the most crucial elements, such as the bar sales, cash balance, class registrations and CRM tasks.
Below, you'll find descriptions of the elements of the reception dashboard:
Daily summary:
cash balance

– check whether or not, the system's balance relate to the balance in your cash register

card balance

– check whether or not, the system's balance relate to the payments made with cards

number of entries

– a quick way to preview the number of entries to the club

Bar

– in here, a list of Top 10 most frequently sold items will be displayed. That can be helpful in case of Members that are in hurry.

Thanks to the Go to bar icon, you can preview all the categories and items that are available in the Bar module.
My calendar – this portion displays classes from a specific day. By using the arrow icons, you can change the days of the week. Thanks to the icon, you can register a Member to classes.
Classes that have already passed are greyed out, just like in the photo: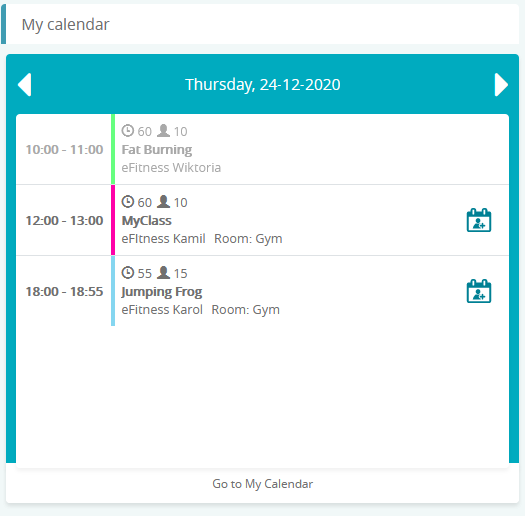 Most common actions:

Add Club Member – lets you add a new Member,

Add new Lead – if you have your Client's contact data, enter it by creating a new Lead profile

Add note – adds a reminder, internal note that is visible on a Member's profile

Last entries – displays 10 Members that entered the Club most recently. Thanks to the list, you can get to the entry page or the sales bar, using this icon , more quickly.

TODO

– tasks needing to be done. They can be either an internal, for example entering a delivery, or external, like a meeting with a Client or a phone call to a Member.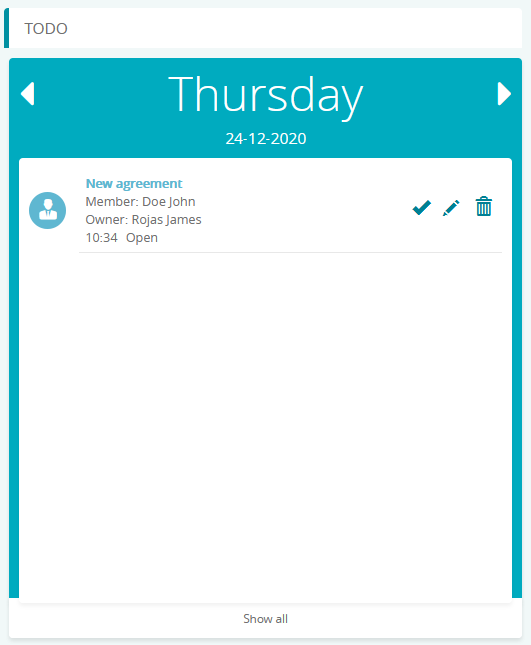 The Show all button will take you to the calendar in the CRM tab.
In case of no tasks, they can be added directly from the TODO section.