The mobile application is an important tool used for communication with Your Members. All the necessary details required to enable the application can be found below. Thank You in advance for sending them to us!
Name of the club
Club's www website
Description of the Club
(maximum of 4000 characters)
Logo
(width 319px, height 237px) in .jpg format
Image which will be displayed on the main screen of the Club
(width 1280px, height 720px) in .jpg format
Opening hours in the following format:
(Monday-Friday,6:00-23:00;Saturday,08:00-16:00;Sunday,09:00-15:00)
Main colour and buttons colour provided in hexadecimal system
(for example #02bac1)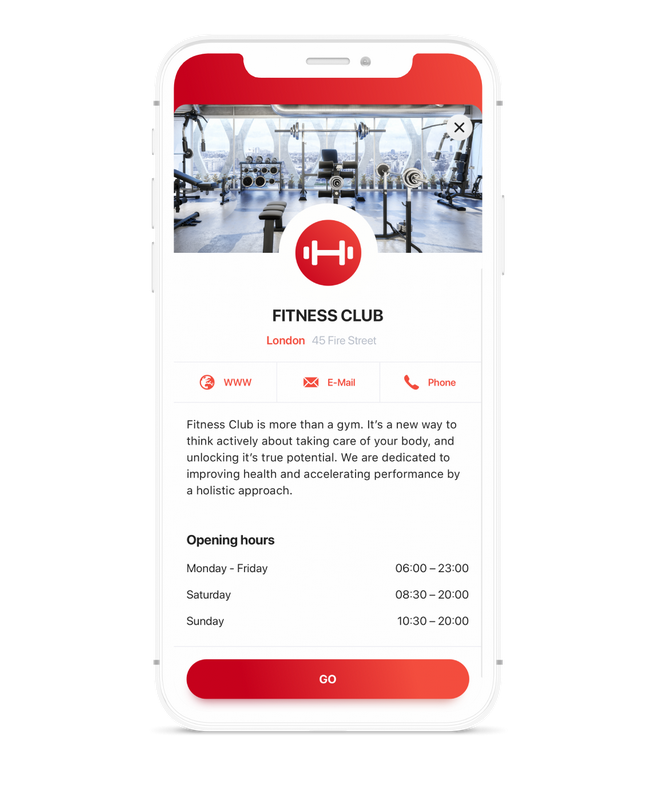 We've prepared for you marketing materials that can be used to promote the application among your members.
They can be downloaded and used in your club for free.
List of elements:
A2 and A4 posters ready to be printed
A2 and A4 posters in png format – the club's logo can be added at the top
15cm x 20 cm rectangular sticker ready to be printed – for example to be used on lockers
15 cm diameter round sticker ready to be printed – for example to be used on mirrors
22 cm diameter round sticker ready to be printed – for example to be used on stairs or mirrors
22 cm x 50 cm rectangular sticker ready to be printed – for example to be used on stairs or doors
600px/350px print to be used with the system's e-mail dispatch
1200px/900px print to be used for a Facebook post
360px/820px Facebook background image