From this article you will learn, how to log in into the Member area and how to manage the access to this site.
Logging in
Logging in is possible by using the Log in button in the top right corner:

You can easily reset your password here. After using the "Forgot your password" option, an email message containing the new password will be sent. If you would like to register yourself as a new member, you can do that by clicking on the "Buy a membership" link: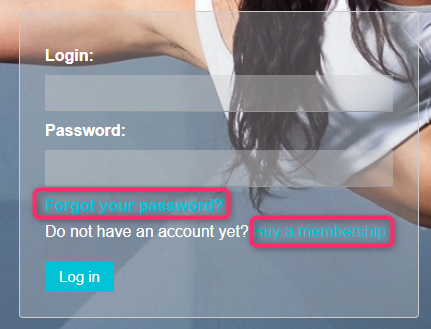 Either an email address or an ID number can be used as your login.
The password is generated after a Member's profile is created, either in the system or in the Member area.
Enable the message containing the password to the Member area in the Club settings -> Automation -> Customer relationship management tab by checking the Email slider next to the Password to member area message:

We also highly recommend checking out the automated messages tutorial.
How to disable a Member's access to the Member area?
Go to a Member's profile and to the Data -> Additional information and functionality tab, and switch the Access to member area blocked slider to Yes. After this action, save the changes at the bottom of the page: