Creating a single task
First way of adding a CRM task is doing so through the Reception Dashboard (available for users without access to the BI Dashboard). To do so, go to the Start -> TODO tab: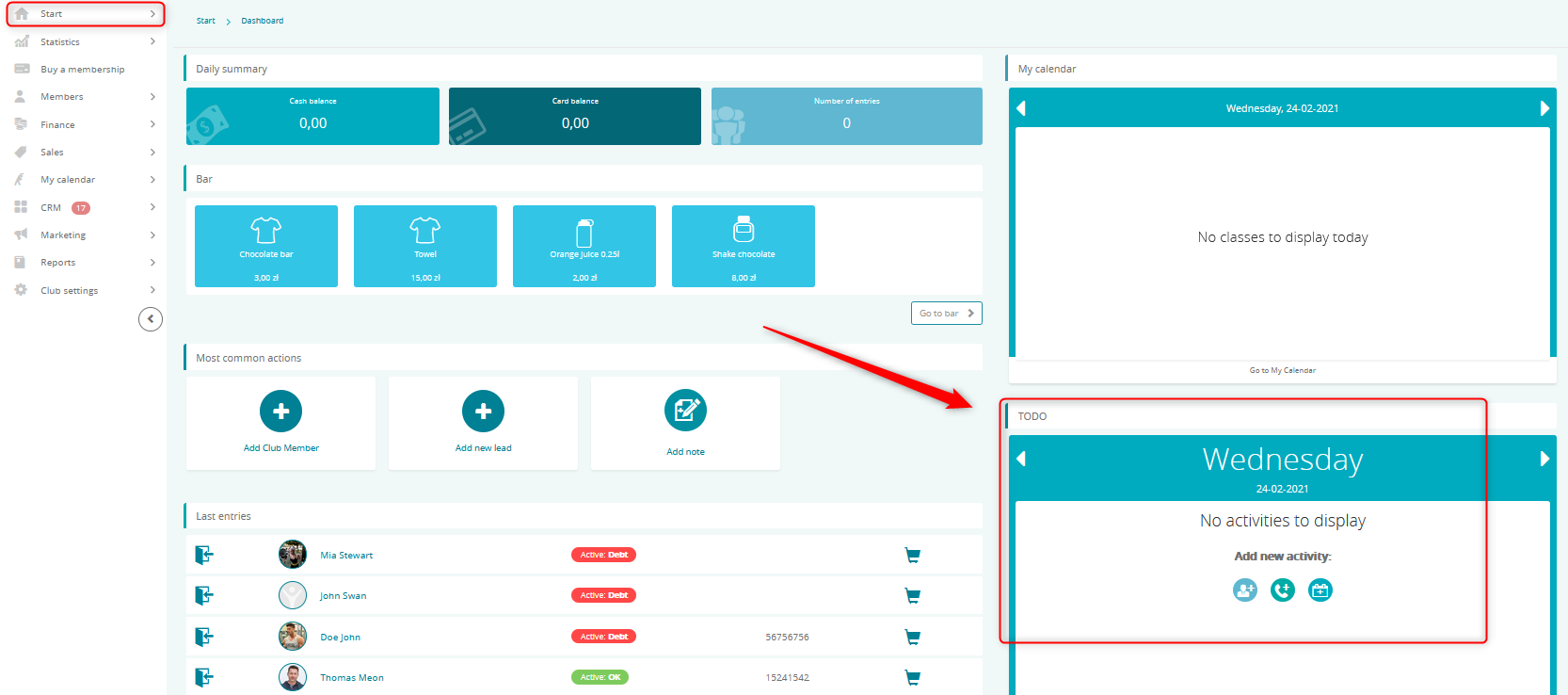 Adding a CRM task is possible, when there are no upgoing tasks on the list.
Otherwise, all tasks assigned to a chosen day will be displayed. To change the date, use arrows visible next to it.
To add tasks you can use either from below icons:
Add: Meeting
Add: Phone
Add: Task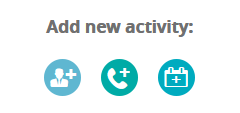 After clicking the icon, a form will be displayed: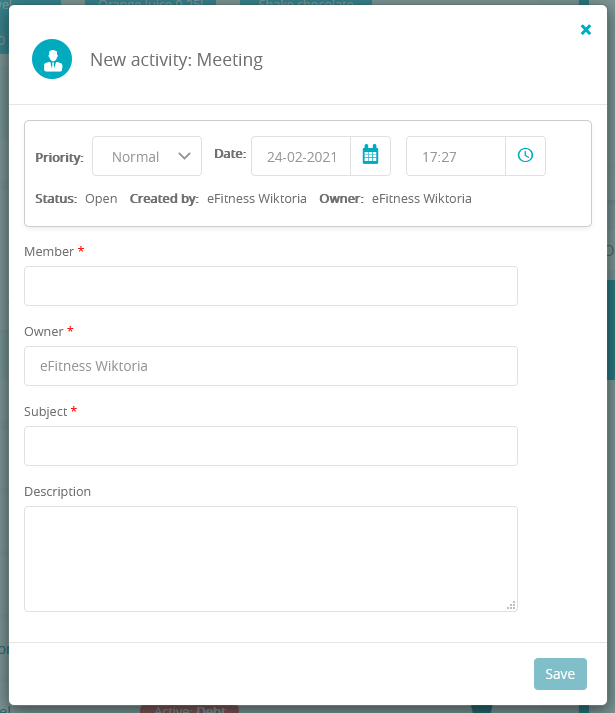 Prirority – Normal by default, but can be changed to High, which will display a exclamation mark next to the task
Date and time –  date and time of the meeting/phone/task deadline
Member – Choose a member to assign a task to
Owner – Choose employee to assign a task to
Subject and Description – topic of the task
After the form has been filled, save the changes.
After adding the task, it will be displayed on the TODO list: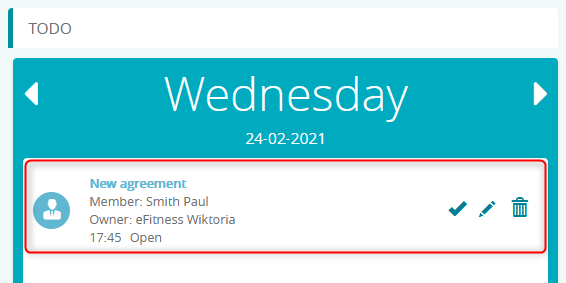 From here, we can choose to close the task with

icon, edit it with

icon or delete it with

icon.
Second way of adding a task is through the Member/Lead member profile. To do so, go to CRM tab on Member's profile: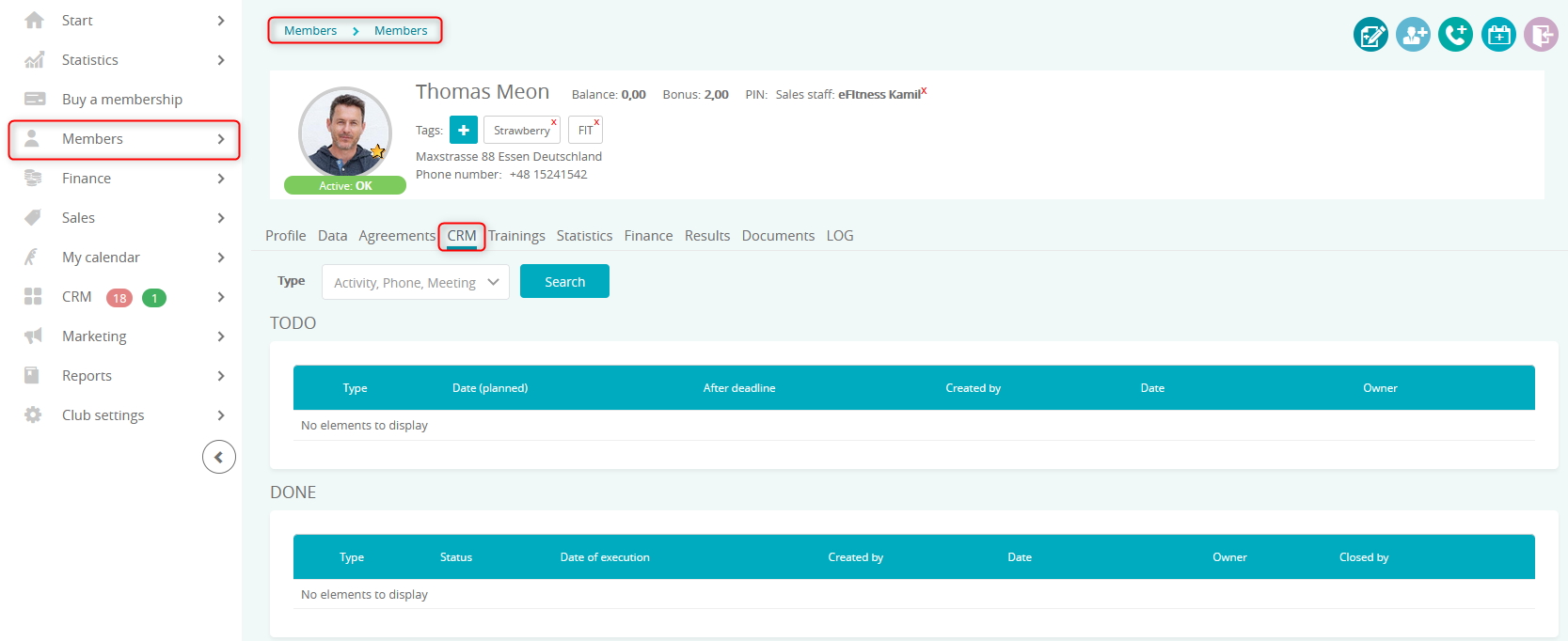 In the top right corner, you will be able to see icons that will allow you to add a meeting, phone call or a task (similarly to the Dashboard icons). A task will bevisible on the TODO list after its added.

After completing the task, it will be moved to the DONE tab: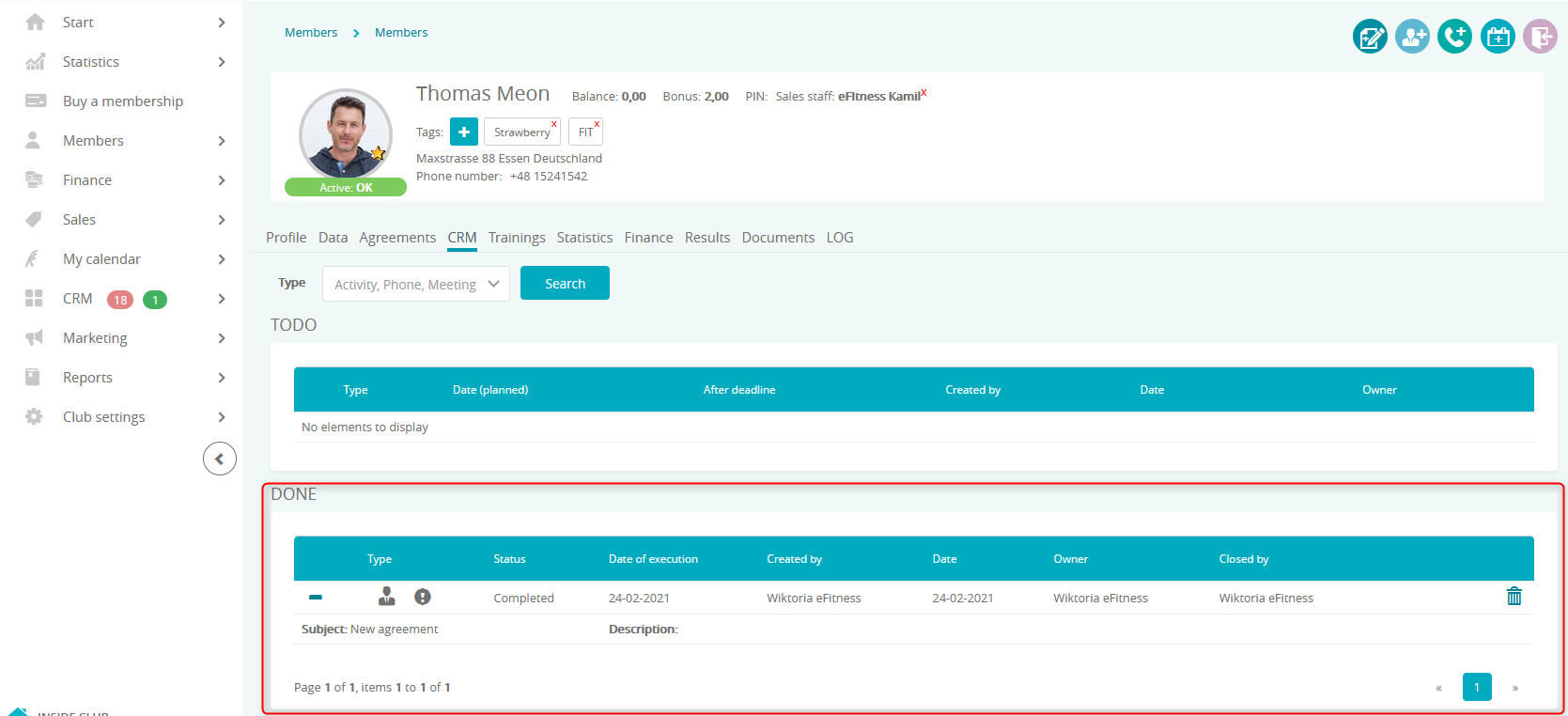 Additionally, on this screen, you can add a note: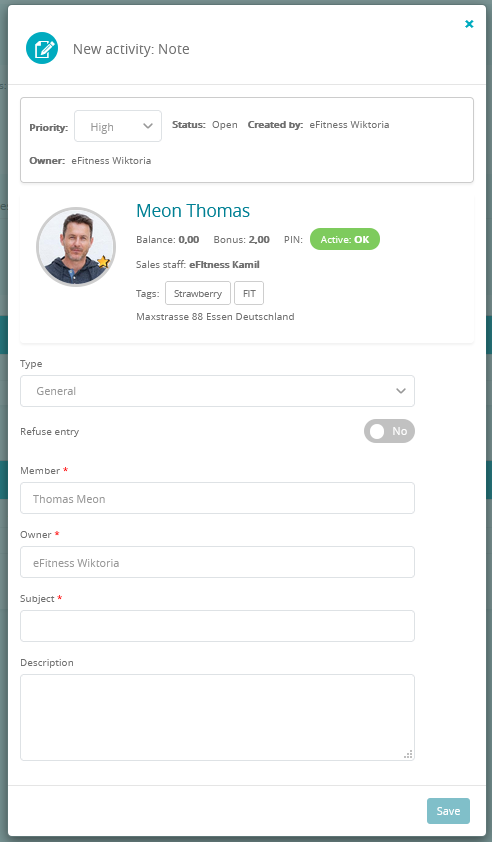 A Note can block Member's access to the Club, if the Refuse entry slider is set to Yes.
A note will not be displayed in CRM tab on Member's profile by default. To see it, choose it from the list:

After checking it, a note will be displayed:

The note will also be visible on the entry page:

And on clients profile:

Another way of adding a task, is by add meeting/phone/task visible in the top-right corner of the CRM tab: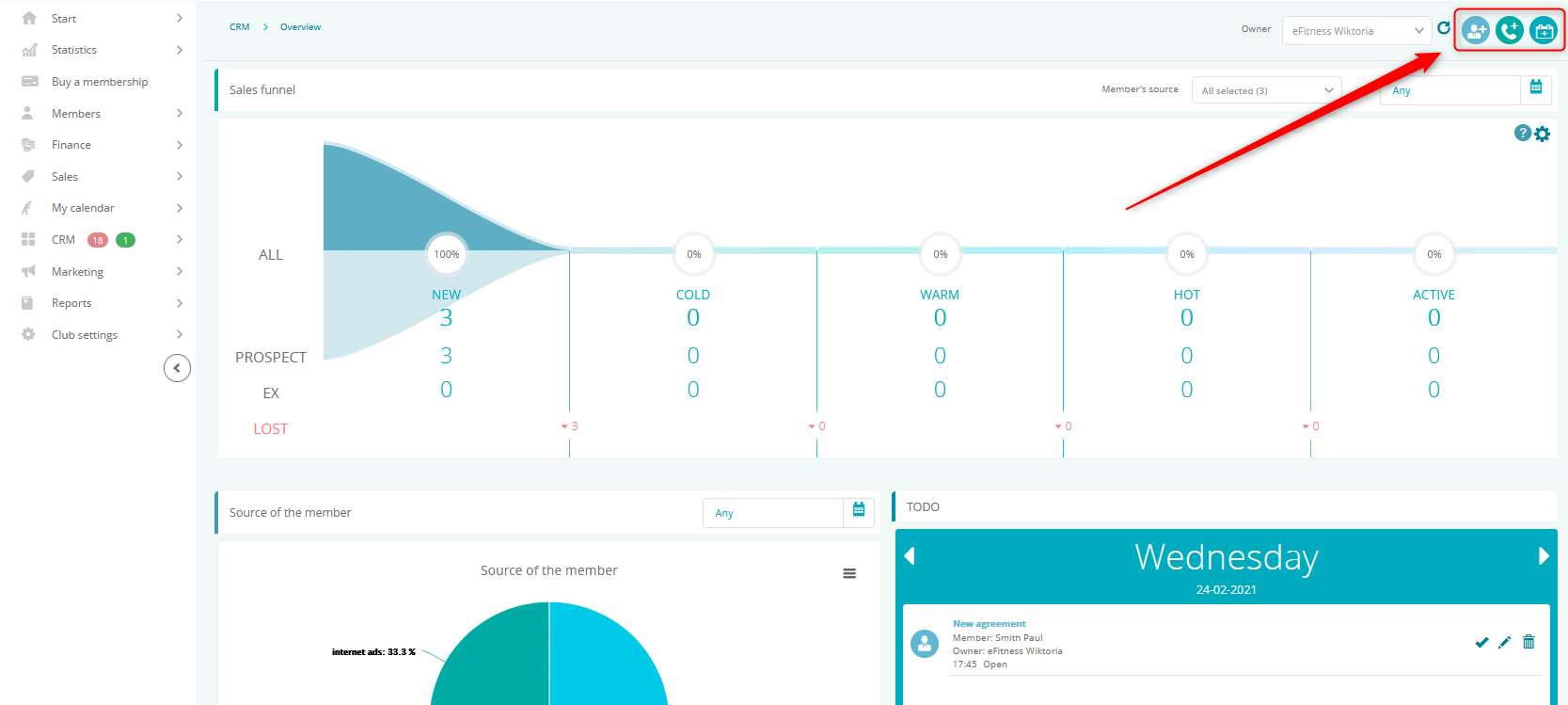 On this screen, you can also access the TODO list, where you can add tasks, if none is already active.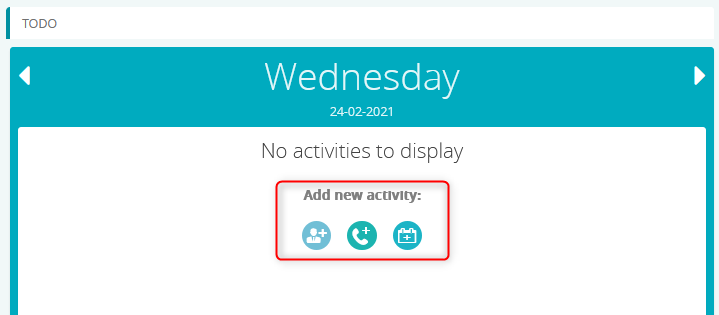 In CRM -> Calendar tab, a task can be added after clicking on an empty field:
Each employee assigned to a Member/Lead can gather their own Client base, and manage it in CRM -> Members tab
Mass task creation
You can add many tasks at once thanks to reports available in the system.
To do so, go to a report you want to use, choose members with the checkbox available on the right side. Afterwards, click on the Additional options, and choose the Add task to selected/Add tasks to all.

Afterwards, a form will be displayed: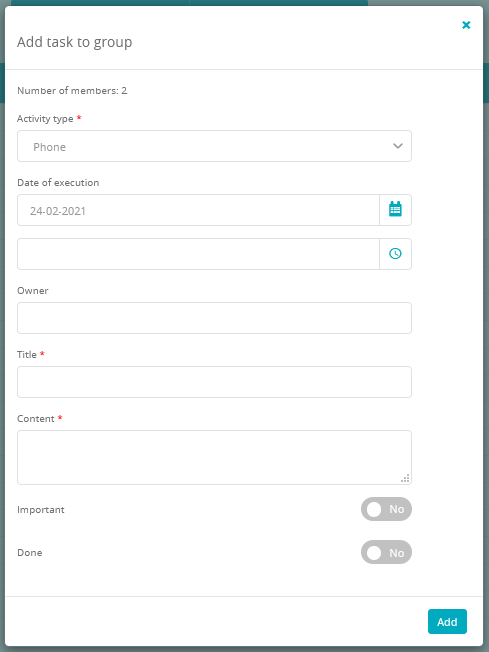 After clicking the Add button, tasks will be assigned to chosen employee
Automatic tasks creating
A CRM task can be added automatically though the system.
Go to the Club settings -> Automation -> Intended automation group -> Intended action in the system. Afterwards, you will be forwarded to the settings, where you can choose the type of a task that is supposed to be added:


Below fields need to be filled in:
Subject – insert subject of the task
Content – insert any clues for your employee
Sales staff – insert an employee that will be responsible for the tasks. You can also simply check the Default sales staff slider, to assign the default employee that is associated with the member.
Upon saving the changes, slider on the list of automatic messages will be set to Yes: